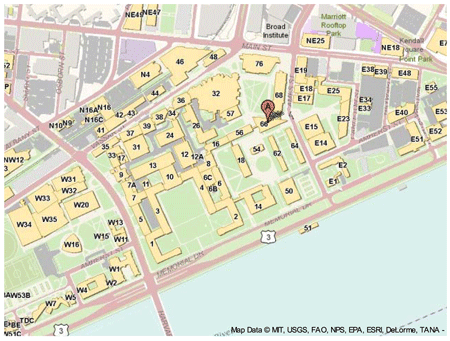 Click map to interact
Our labs and offices are located in Building 66 on the MIT main campus. The lab is on the 1st floor, in room 125. Professor Tisdale's office is on the 4th floor, in suite 458. The student office is on the 2nd floor in room 216 (at the top of the main staircase).
If travelling by public transit, take the Red Line to "Kendall/MIT" then turn left at the intersection of Main Street and Ames Street. Building 66 is ahead on your right at the next crosswalk.
Hourly parking meters are available along Ames Street.
Tisdale Research Group
Massachusetts Institute of Technology
Department of Chemical Engineering
25 Ames Street
Room 66-458
Cambridge, MA 02139
phone: 617.258.7026
fax: 617.258.5766
email: balkwill@mit.edu
US Mail:
Tisdale Research Group
Massachusetts Institute of Technology
77 Massachusetts Avenue
Room 66-458
Cambridge, MA 02139